-30% Sale

199,99 139,99

-25% Sale

199,99 149,99

-40% Sale

249,99 149,99

-11% Sale

179,99 159,99

-26% Sale

229,99 169,99

-24% Sale

249,99 189,99

-17% Sale

299,99 249,99

-28% Sale

399,99 289,99

-40% Sale

599,99 359,99

-33% Sale

599,99 399,99

-17% Sale

599,99 499,99

-30% Sale

999,99 699,99

Ruim assortiment
Scherpste prijzen
Fysieke winkel in Sittard

-18% Sale

1.099,99 899,99

-29% Sale

1.399,99 999,99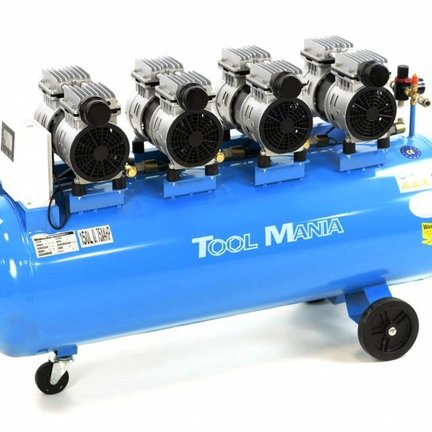 Working in silence is sometimes so pleasant, especially in a busy workshop. At ToolMania you will find various low noise compressors. As the name already gives away, they are low-noise compressors. You can easily connect your (air) tools to it. This way you can easily get to work without a lot of noise at your head. We offer a silent compressor for every budget. View our offer directly online and find a low noise compressor that meets your needs.
How does a compressor work?
A compressor is used to compress the air to the desired pressure to perform work. Air from the environment is drawn in for this. This ends up in the compressor and is put under pressure here. As a result, the pressure of the air becomes higher than the environment. In fact, a compressor creates air pressure. The air pressure is expressed in bar. Thanks to a compressor, an air pressure of 6 bar or more can be realized. It is important that there is a continuous air pressure that can be generated by the compressor. Should the air pressure drop, the system will also come to a standstill.


Our collection of low noise compressors
ToolMania offers a very wide range of low noise compressors. We are happy to list a number of products for you:
TM 9 liters
TM 20 liters
TM 50 liters
TM 50 liters
TM 70 liters
TM 120 liters
TM 70 liters
TM 100 liters
Order your low noise compressor online
Have you seen a nice silent compressor in our webshop that meets your needs? Place your order online, choose one of the payment options and within a few days you will receive your purchase already at home. It is also possible to collect your order at our physical branch in Sittard. Do you have questions about our low noise compressors or another product from our collection? Feel free to contact us!