V-belt Powered Compressors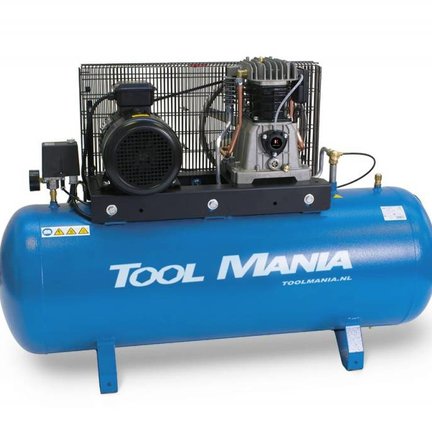 Are you looking for the perfect compressor for all your air tools ? Meet the Michelin compressor. For years, Michelin has been synonymous with excellence in the automotive industry. ToolMania offers you various Michelin compressors at attractive prices. You can use a compressor for tightening nuts with an impact wrench, sandblasting, drilling, sanding and many other activities. The Michelin compressors make little noise so you can get to work optimally in your workshop. View our collection online and find the compressor that is suitable for your situation.
Operation of compressor
A compressor is used to compress the air to a desired pressure to perform work. From the environment the compressor sucks in air that enters the machine. The air pressure in this way is higher than the environment. The pressure is measured in bar. With a Michelin compressor, an air pressure of at least 6 bar can be achieved. Continuous air pressure is important so that the air pressure does not drop and the system continues to work.
Our range of Michelin compressors
ToolMania has included various versions of the Michelin compressor in its range. So you will almost always find a compressor that meets your needs. Most compressors have wheels so you can easily move the device. A selection from our Michelin collection:
Michelin 3 HP - 50 liter compressor
Michelin 5.5 HP - 270 liters of silenced compressor
Michelin 270 liter compressor 5.5 HP
Michelin 50 liter compressor
Michelin RSX 3 HP - 230 Volt 270 liter screw compressor
Michelin 24 liter compressor
Michelin 270 liter compressor 7.5 HP
Place your order directly online

Have you found a Michelin compressor that fits perfectly with your work? Place your order through our webshop, choose one of the payment options and we will make sure that you receive your purchase as quickly as possible. We also offer the possibility to pick up orders in