Modular workshop equipment systems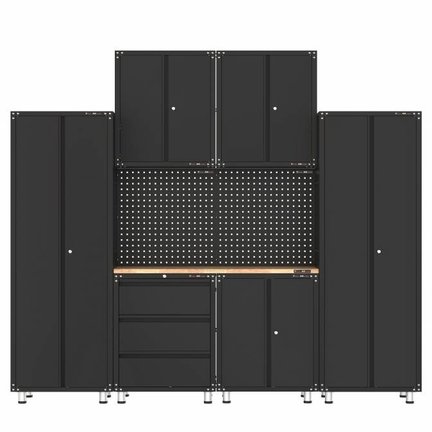 Your garage or workshop is where you do your work every day, so it makes sense that this place is organized as efficiently as possible. Thanks to our modular workshop equipment for your workshop, this is no problem. We offer the right cabinets, worktops and even complete appliances. All our products are very reliable and of good quality. They are insured by articles that will last for years. View our range directly online and find the products that complete your workshop.
Our range of workshop equipment
We have different versions of cabinets and worktops available for you in our webshop. So you can keep your tools simple and safe. For example, a sideboard is ideal for storing small to medium-sized tools. Or how about a tool cabinet with adjustable shelves. In this way you can adapt the cabinet to your own wishes. The drawers and cupboards are provided with a scratch and impact resistant powder coating. You can also find wooden tops in various sizes online. Would you rather be ready in one go? View our complete workshop equipment. These have tool cabinets and workbenches in all kinds of versions. You will find something suitable for every room and budget. The smallest version is 6-piece, the largest version is no less than 16-piece.


Your specialist for workshop equipment
Have you found a suitable product for your workshop? Place your order online and we will ship your purchase home within a few working days. Pick up in our store in Sittard is also possible. ToolMania is a young and dynamic company that specializes in the sale of high-quality equipment and accessories for garages. Almost all our products are in stock, so we can guarantee a fast delivery time. Are you looking for a product for your garage, but you don't see it on the website that quickly? Feel free to contact us, we look forward to seeing what we can do for you.