-14% Sale

2.199,99 1.899,99

-12% Sale

2.499,99 2.199,99

-11% Sale

3.499,99 3.099,99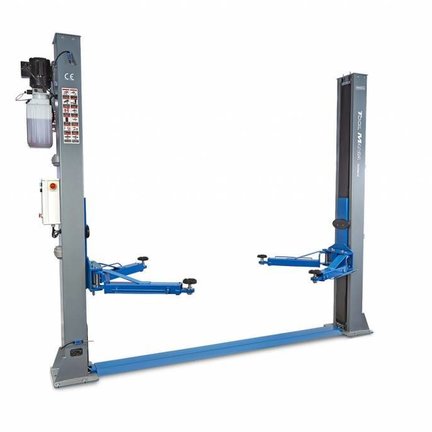 The 2-column lifts from ToolMania are of high quality and ideal for professional use. Do you regularly repair cars? Then a 2-column lift bridge is indispensable for your workplace or garage. This tool is ideal for somewhat heavier work. The bridge has a slightly higher lifting height so that you do not have to bend down constantly. So you can easily buy from the exhaust, tires or sills of the car. Because the car is on the two lifting columns, the car is freely accessible. Bending over is now a thing of the past.
Cheap 2-column lifts
In our range you will find various versions of inexpensive 2-column lifts. We have a high-quality 2-column car lift bridge available for every budget. The cheapest option is our 2-column hydraulic lift bridge with a capacity of 4 tons. This is the ideal entry-level model with a top price / performance ratio. This lift bridge has adjustable pick-up pads and an extremely flat threshold. With these Basic line lifts, you can lift all vehicles, from Smart to small vans. The most extensive option is the OMA 2-column lift with a capacity of 3 tons, fully automatic and twisted columns . These are ideal for opening doors. The lift has adjustable and extendable arms and no threshold. In addition, it has an automatic safety system, 3-step telescopic lifting arms and a lifting speed of 60 sec. You will also receive a CE certificate with this column bridge. All our 2-column lift bridges meet the European safety requirements.
Buy a 2-column lift
ToolMania was founded in 2009 and we have now grown into a young dynamic company. Delivering high-quality equipment for garages is our specialty. With us you are assured of competitive rates and good service. We have a large stock from our branch in Sittard. Have you seen a 2-column lift bridge that fits perfectly in your garage? Then order it online now. This is very easy. Place the lift in the shopping cart, pay securely and your order will be delivered at home within a few working days. It is also possible to collect your purchase from our branch in Sittard. We offer you a 12-month warranty. Would you like to know more about 2-column lifts or do you have another question about our range? Do not hesitate to contact us.