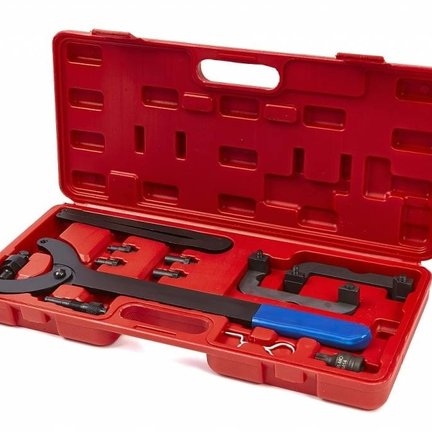 For special tools you have come to the right place at ToolMania. Thanks to our tools, you can complete any job for your car or motorcycle. We offer you a varied range of tools for car, motorcycle and technical work. Thanks to our large stock, competitive prices and technical knowledge, we distinguish ourselves from other shops. View our range directly online and find the automotive tools you are looking for.
Our range of special tools

Whether you are going to change a (flat) tire, want to measure the compression or get started with the exhaust, you will find all the car tools you need with us. In the menu on the left in the webshop you can see all categories of tools. So you can easily find what you are looking for. A selection from our range:
Cooling system and air conditioning tools
Measurement and diagnosis tools
Battery charger and starter booster
Oil, fluid and lubrication
From wheel arch to dent removal set and from bearing puller set to oil pressure tester, we have it all for you. Are you not happy with all that offer? Don't worry, you can always ask us for advice. We are happy to think along with you and help you search so that you can get started with the right tools.

Your specialist in garage tools

Repairing cars or motorcycles is best done with the ToolMania tools. In our webshop we have neatly sorted all our garage products for you. With us you are assured of a fast delivery. All products are of top quality and very competitively priced. Well-known brands that you will encounter with us are: AOK, Beta, Eurol, HBM, TM, Bosch, Michelin and Forza Toro. Do you have questions about our range of special tools? Do not hesitate and feel free to contact us . ToolMania's specialist employees are happy to help you.