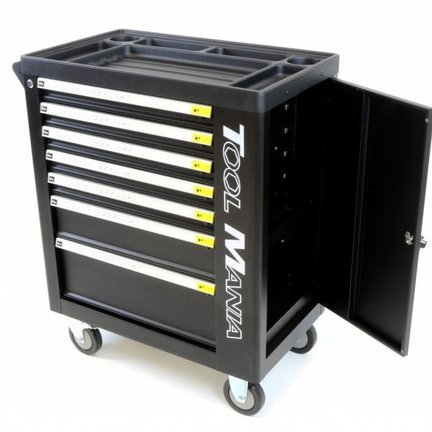 At ToolMania you are at the right place for various tool trolleys. We have included the best cars of famous brands in our collection. You will therefore undoubtedly find a tool trolley that perfectly fits your needs. Whether you are looking for a tool trolley for your garage, shed or workshop, we offer something for everyone. Every car has mounted drawers and strong wheels that are easy to maneuver. This way you can easily move the tool trolley.
Empty and filled tool trolleys
In our range you will find brands such as TM, Mannesmann and TopTul. These brands are known for their reliability and durability. Your favorite brand is certain. At ToolMania we only select the best tool trolleys for our range. With us you are always assured of top quality and competitive prices. The high-quality materials of the tool trolleys ensure that you will enjoy them for years. It can happen that a tool trolley in a workshop comes into contact with a dangerous liquid, this is not a problem. Our cars can take a beating. In the webshop you will find empty and filled tool trolleys. In a filled version you will find everything you need. You can also choose to buy an empty copy and fill it yourself with your tools. At ToolMania you can choose from red, black, blue, green and stainless steel tool trolleys. You can also order separate inlays for the tool trolleys from us.
Tool trolley offer
ToolMania assures you of a competitive price. It also regularly happens that we have a tool trolley on offer. You never pay too much with us. Do you also want to buy such a handy tool trolley? Don't wait any longer and order today. We ensure that your purchase is delivered to your home as soon as possible. Another option is to pick up your order yourself at our store in Sittard. If you have any questions about our range, you can always call or email us!