-9% Sale

3.499,99 3.199,99

-9% Sale

3.499,99 3.199,99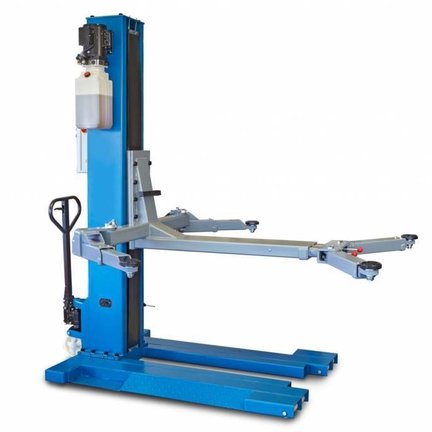 Do you save space in your garage? Then choose a 1-pillar lift from ToolMania . A lift with one pillar is a real asset if you regularly build on cars and are ideal for vehicles up to 2.5 tonnes. Do you have a car where the exhaust, tires or sills must be replaced? That happened with a bridge with one column. This lift is perfect for car mechanics. A lift with one post has the advantage that you can easily carry out your work under the car, bending over and back complaints are a thing of the past.
Our range of 1-pillar lift bridges
ToolMania offers various types of 1-column lift bridges. For example, there is a suitable bridge for every budget. The most advantageous bridge is the G-Force Lift truck with 1 piles of 2.5 tons with TÜV. This version is equipped with a hydraulic cylinder, adjustable inlet arms and mechanical safety lock that prevents unintentional pockets. It is a strong construction for maximum stability. Forces are transmitted through strong chains. It is a freestanding design and comes with a CE certificate. Another option is the mobile 1-column G-force lift with electronic unlocking. This lift also has a cylinder, a mechanical safety lock and is a freestanding design. In addition, this 1-pole lift has a 24V switchgear, a 24V foot control, an emergency stop switch, a main switch and an aluminum motor that is ideal for overheating. This lift also has a capacity of 2.5 tons. The maximum lifting speed is 55 seconds. All our 1-column vehicle lifts comply with European safety requirements.
Benefits of ToolMania
Thanks to our large collection you will almost always find a lift that suits you and represents a real asset to your garage or workshop. If you can not find a product, please contact us . We look forward to seeing what we can do for you. In our webshop you will only find the best products at a competitive price. ToolMania ensures you:
Thorough advice
Competitive prices
Fast delivery
Outstanding service
12 months warranty
Own delivery service
Buy lift with one pillar
Have you looked at our range and seen a lift with 1 pillar that fits perfectly into your garage? Place your order online quickly and easily. Place your favorite in the shopping cart, make sure and your order will be delivered within a few days. It is also possible to pick up your 1-pillar lift at our branch in Sittard. With us you have a warranty of 12 months. Would you like to know more about 1-post lifts or do you have a question about our offer? Feel free to contact us.