Cooling system and Airco Tools
-67% Sale

2,99 0,99

-50% Sale

59,99 29,99

-33% Sale

89,99 59,99

-40% Sale

49,99 29,99

-70% Sale

59,99 17,99

-47% Sale

149,99 79,99

-44% Sale

79,99 44,99

-30% Sale

19,99 13,99

-40% Sale

99,99 59,99

-63% Sale

79,99 29,99

-25% Sale

39,99 29,99

Ruim assortiment
Scherpste prijzen
Fysieke winkel in Sittard

-53% Sale

14,99 6,99

-42% Sale

49,99 28,99

-17% Sale

29,99 24,99

-27% Sale

29,99 21,99

-27% Sale

159,99 116,99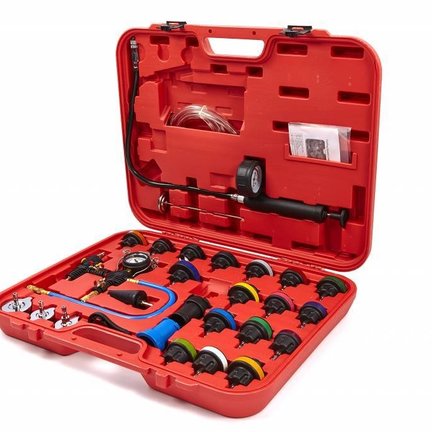 With a vehicle, the cooling system ensures that the engine does not overheat. In most cases this is done by cooling water / coolant. For old cars, it is cooled with air cooling. Coolant is pumped through different channels through the engine to remove the heat. It is very important that the cooling system of a car works well. ToolMania offers a wide range of air-conditioning tools and accessories. For example, we have various types of tools for pressing off coolant or for dismantling air conduits.
Our range of cooling system tools
Whether you want to test the cooling system, put pressure on the radiator or want to test the state of the antifreeze, at ToolMania you will always find the right tool for every job. In our web shops you will also find various complete sets, such as the cooling system diagnosis / extortion and filling set. This is suitable for carrying out pressure loss checks using a hand pump with pressure gauge and test adapters. The measured pressure can be compared with standard values. The set includes vacuum filling device for cleaning the radiator and topping up the coolant. Or how about our extremely handy 9-piece hose clamp set. This set consists of different pliers for securing and loosening different types of hose clamps from 18 to 54 mm. The previously unreachable places are now freely accessible through an extension. The clamping pliers have a blocking function so that you have your hands free for other work that must be carried out simultaneously. In addition to cooling system tools, we also offer many other types of tools. From drive and tire tools to diagnostic tools, tool trolleys, compressors and power tools.
Your specialist in garage tools
Repairing cars is best done with the ToolMania tool. We have sorted all of our items in an orderly fashion so that you can easily find what you are looking for. Thanks to our large stock you are assured of a fast delivery with us. All our products are of high quality and very competitively priced. Well-known brands that you come across with us are: TopTul, TM, Bosch, AOK, Beta, Eurol, Michelin and Forza Toro. Do you have questions about our range of airo tools or about an order? Do not hesitate and contact us. The specialist employees of ToolMania are always there for you.