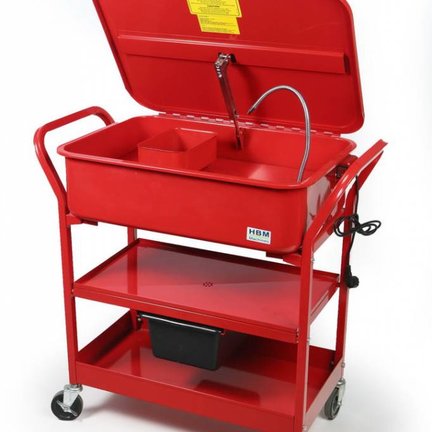 Degreasing your professional tools is easy with a ToolMania degreaser tray. We have a wide range of small to large degreasing trays. You can also contact us for related supplies such as an oil can and cleaning brush. The bins are easy to empty using a stop in the bottom. From now on, your tools will therefore be in perfect condition.
Degreasing trays and more
Good material is important for every workshop. ToolMania not only offers degreasing trays, but virtually everything in the field of garage equipment. From tool cars to jacks and lifting platforms. A selection from our range:
Body tools
Motor timing tools
Drive and tire tools
Brakes and clutch tools
Cooling system and air conditioning tools
Measurement and diagnosis tools
Tractor and other tools
Battery charger and starter booster
Exhaust tools
Oil, liquid and lubrication
Benefits of ToolMania
Thanks to our large collection you will almost always find the article you are looking for. If you can not find a product, please contact us. We look forward to seeing what we can do for you. In our webshop you will only find the best products at a competitive price. With us you are assured of:
Thorough advice
sharp prices
Fast delivery
Outstanding service
12 months warranty
Own delivery service
Fast delivery
The right degreaser tray found? Ordering is very easy with us. Place the desired item in the online shopping cart and settle in our safe environment. Your order will be delivered within a few days. Thanks to our large stock you are assured of a fast delivery time. We deliver throughout the Netherlands and Belgium. It is also possible to pick up your purchase from us. ToolMania offers 12 months warranty on products. If you are not satisfied, return is possible. Would you like to know more about our degreasing trays or do you have another question about our assortment? Feel free to contact us. As since 2009 we are specialists in the field of garage equipment and everything that has to do with this. In addition to degreasing trays, you have come to the right place for toolboxes, work cabinets, maintenance tools, transport rollers and much more!