Pully tractors and Pullytrekker sets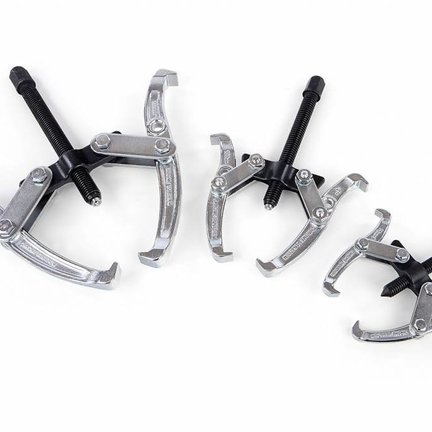 ToolMania offers various 2- and 3-armed pully tractors of top quality. Another name for a pully tractor is pulley puller. With this tool you can get bearings, flanges, and couplings off the shaft. The grab hooks behind for example a bearing and then tighten the bolt against the shaft where the bearing is located. The head of the bolt can be tightened with a spanner or ring spanner to release the bearing. We have various pully tractors and tractor trimmer sets. This way you can be sure that you can do any job. View our collection directly online.
Our range of pully pullers
Both the do-it-yourselfer and the professional can contact ToolMania for our pullover trigger sets. Bearings or seals can easily be removed thanks to this tool. In our assortment you will find the following sets:
HBM 3-arm CRV pullover tractors
HBM 72-part 2- and 3-arm pullover trigger set
HBM Profi 17-piece inner bearing puller set


The pulley extractors in the set of 3 are made of CRV steel and of high quality. They have a range of 25 to 160 mm. Our large set has a range of 75 to 200 mm. The inner bearing set is designed to dismount bearings installed in a blind hole. It is also used to repair car transmissions. In the set you will find a 2-jaw puller with spindle and spreading sleeves for bearings with an inner diameter of 8-58 mm. The percussion hammer in the set has a length of 290 mm. Everything is delivered in a sturdy storage case.
Buy pulley extractor?
Everything in your workshop can be found at ToolMania. Have you seen a pullytrekker set that comes in handy for your work? Place your order easily and quickly online. Then settle in our safe environment and you will receive your purchase within a few working days. Another option is to pick up your order at our branch in Sittard. Do you have a question about pully tractors or another product from our range? Call or email us.