Jet cabins
Jet cabins - Jet cabin ToolMania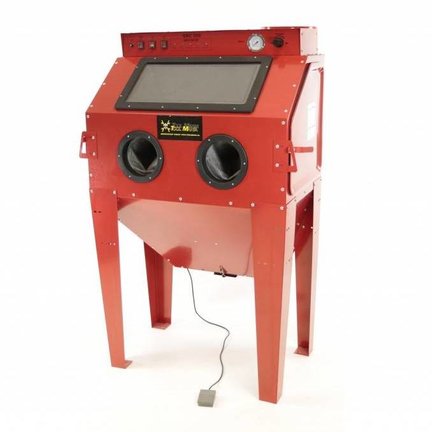 A professional blasting cabin may not be missing in your garage. It is used to clean objects or workpieces with a view to removing rust or paint. This is done pneumatically with sand or blast grids. Because the cabin is closed, this can always be done safely. In our webshop you will find various blasting cabins that vary in power and liters. Each blasting cabin is easy to handle and can be used by everyone. Because the cabin is closed, others do not suffer from blowing sand or dust clouds. You can also easily access the workpiece and you have good visibility.
Which jet cabin do you choose?
A blasting cabin can be used for rims, motors and almost any other car part. Which blasting cabin is most suitable for you depends on the pre-action pin you want to shine. For smaller objects, a 90 or 220 liter blast cabinet is an ideal solution. If you plan to sand larger objects, opt for a 350 liter blasting cabinet. The largest blast cabinet in our range is 990 liters. This comes with a spray gun, gloves, 4-piece nozzles, lighting, protective films, pressure regulator and extraction. A nozzle is made of ceramic and should be placed on the end of the blasting gun. This will wear out due to use and must be replaced regularly. If this is not done, the air consumption during the sandblasting is increased, this does not benefit the blasting.


Order your blasting cabin directly online
Have you looked at our collection of blasting cabins and found a suitable one? With a few clicks you can order your blasting cabin easily online. Choose a payment method and we will ensure that your order is delivered as quickly as possible. Do you prefer to pick up your purchase? That is also possible in our branch in Sittard. Do you have questions about our blasting booths or another product from our collection? Feel free to contact us!